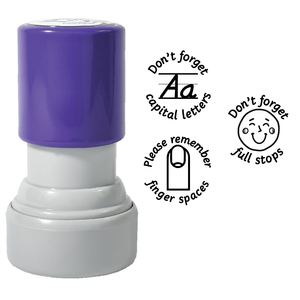 Our premium pre-inked stamps are a great way to provide feedback to your pupils.
Achieve up to thousands of crisp impressions with our re-fillable stamps.
Set 1
Stamp 1 - Capital Letter
Stamp 2 - Full Stop
Stamp 3 - Finger Spaces
Our premium stamps are made with love from the heart of Scotland and may take up to 10 working days to process.
Stamp size: 23mm
Shape: Round
Ink options: Black, Blue, Red, Green or Purple